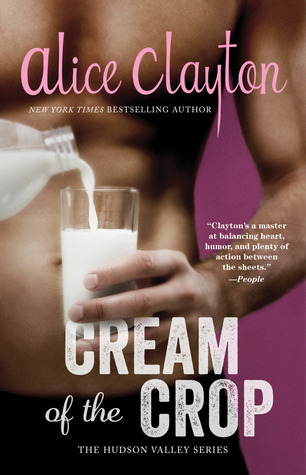 Cream of the Crop
Series:
Hudson Valley #2
by
Alice Clayton
Published by
Gallery Books
on July 12, 2016
Genres:
Adult Contemporary Romance
Pages:
384
Format:
Paperback
Source:
Publisher
Buy on Amazon
, 
Barnes & Noble
Goodreads
New York Times and USA TODAY bestselling author Alice Clayton brings her trademark blend of funny and sexy to this second contemporary romance in the brand-new Hudson Valley series!

Manhattan's It Girl, Natalie Grayson, has it all: she's a hot exec at a leading advertising firm, known industry-wide for her challenging and edgy campaigns. She's got a large circle of friends, a family that loves her dearly, and her dance card is always full with handsome eligible bachelors. What else could a modern gal-about-town wish for? The answer, of course, is...cheese.

Natalie's favorite part of each week is spending Saturday morning at the Union Square Farmer's Market, where she indulges her love of all things triple cream. Her favorite booth also indulges her love of all things handsome. Oscar Mendoza, owner of the Bailey Falls Creamery and purveyor of the finest artisanal cheeses the Hudson Valley has to offer, is tall, dark, mysterious, and a bit oblivious. Or so she thinks. But that doesn't stop Natalie from fantasizing about the size of his, ahem, milk can.

Romance is churning, passion is burning, and something incredible is rising to the top. Could it be...love?
My Review
Cream of the Crop is another fun and sexy romance from author Alice Clayton. I loved this!
Cream of the Crop is the second book of the Hudson Valley series. This can be read as a standalone but I suggest you read the first book, Nuts, to get a full understanding of the characters of Bailey Falls. Natalie Grayson is Manhattan's "It Girl" that has it all – a prominent career at a leading advertising firm, a large circle of society friends, a loving family, and the sensual power to have any man eating out of the palm of her hands. Her sensual power fizzles the moment she lays eyes on Oscar Mendoza, the sexy and mysterious owner of the Bailey Falls Creamery. The overconfident Natalie gets weak in the knees and can't understand why Oscar has this effect on her. Fate intervenes and Natalie takes on the town of Bailey Falls as a client which gives her the perfect excuse to get to know Oscar. I don't want to spoil the story but in true Alice Clayton fashion Cream of the Crop had me laughing with these fun characters and fanning myself from the steamy romance.
I loved this story but what stands out for me is Natalie. She is a breath of fresh air when it comes to women in romance novels. Natalie is a plus-size heroine but as the author explains in the opening acknowledgements it is not the focus of the story. Natalie is a beautiful woman that loves her curves and refuses to follow society's rules to hide it. She overcame an abusive relationship by believing in herself which is a refreshing departure from the damsel in distress that is found in most romance novels. Even with her confidence Natalie's vulnerable side is revealed, which makes her a realistic character. Oscar and Natalie have some fun and sexy moments but I wish there was more intimate scenes to see their emotional connection. Oscar is a man of little words which is fine but there were parts of the story I didn't like his attitude. I hate to spoil the story but I think he didn't handle a tense scene between Natalie and another character. Based on his grins I think he enjoyed being the center of attention. So for his behavior I think Natalie's caveman nickname is a perfect fit for Oscar.
Despite my problems with Oscar I really enjoyed this book. I can't wait to read the next book in this series. I recommend Cream of the Crop to fans of sweet, funny and sexy romance.
I received this book as a member of the XOXperts, XOXO After Dark's official street team, in exchange for an honest review. Visit XOXOAfterDark.com for the best in romance, urban fantasy and women's fiction.
Rating Report
Plot
Characters
Writing
Pacing
Overall:
Reading this book contributed to these challenges:
2016 New Release Challenge
COYER Summer 2016
Related Posts