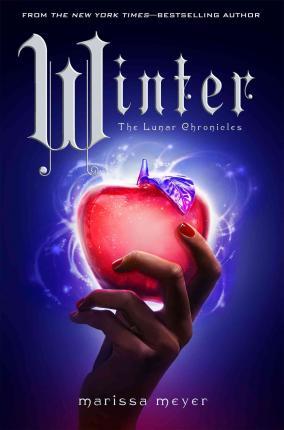 Winter
Series:
The Lunar Chronicles #4
by
Marissa Meyer
Narrator:
Rebecca Soler
on November 10, 2015
Genres:
Young Adult Fantasy
Pages:
824
Length:
23 hours and 30 minutes
Format:
Audiobook
Source:
Purchased
Buy on Amazon
, 
Barnes & Noble
Goodreads
Princess Winter is admired by the Lunar people for her grace and kindness, and despite the scars that mar her face, her beauty is said to be even more breathtaking than that of her stepmother, Queen Levana.

Winter despises her stepmother, and knows Levana won't approve of her feelings for her childhood friend—the handsome palace guard, Jacin. But Winter isn't as weak as Levana believes her to be and she's been undermining her stepmother's wishes for years. Together with the cyborg mechanic, Cinder, and her allies, Winter might even have the power to launch a revolution and win a war that's been raging for far too long.

Can Cinder, Scarlet, Cress, and Winter defeat Levana and find their happily ever afters?
Winter is the perfect ending for The Lunar Chronicles. I loved it and I'm so sad to say goodbye to these characters.
You need to read the books in order for this series so my review will be spoiler free. We meet Princess Winter, the cousin of Cinder, who has been mistreated by her evil step-mother, Queen Levana. Each book retells a fairytale (Cinder is Cinderella, Scarlet is Little Red Riding Hood and Cress is Rapunzel) and Winter is a Snow White retelling. Snow White is my least favorite fairytales thanks to Disney's classic animated film. I hated how they portrayed a young girl waiting for a man to save her. But Princess Winter's only similarity to the classic fairytale is how beautiful she is and loved by all. She is a sweet, quirky girl and she eventually overcomes her fears to help rid her people of the evil queen.
Winter is a long book, with 98 Chapters, but it was necessary to give fans a heart-pounding finale. The POV alternates between all the main characters and it flowed perfectly together. I really enjoyed the POV's because I love all these characters. Watching them work together and feel their romance igniting wanted me to never see this end. There were so many humorous, swoon-worthy and tear-jerking moments. I loved this!!
Audiobook Review
Rebecca Soler's performance was amazing. If you get a chance you have to listen to this series as an audiobook. Rebecca not only brings the characters to life but she brought the emotions of each scene. Of all the voices I absolutely loved Iko, Cinder's android sidekick. She had me laughing along with the story. Rebecca also performed Cress perfectly, and the shy and vulnerable hacker had me in tears. I can't wait to hear more from Rebecca Soler!
Rating Report
Plot
Characters
Writing
Pacing
Audiobook Performance
Overall:
Reading this book contributed to these challenges:
Related Posts