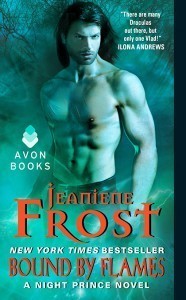 Bound By Flames

Series: Night Prince #3
by Jeaniene Frost
Narrator: Tavia Gilbert
Published by Avon Books on January 27, 2015
Genres: Adult Paranormal Romance
Length: 8 hours and 4 minutes
Format: Audiobook
Source: Borrowed
Buy on Amazon, Barnes & Noble
Goodreads

Play with fire, pay the price.

Leila's years on the carnie circuit were certainly an education. What she didn't learn: how to be a vampire, or how to be married to the most famous vampire of them all. Adjusting to both has Leila teetering on a knife edge between passion and peril, and now the real danger is about to begin…

Vlad must battle with a centuries-old enemy whose reach stretches across continents and whose strength equals his own. It isn't like Vlad to feel fear, but he does…for Leila, because his enemy knows she is Vlad's greatest weakness. As friend and foe alike align against him—and his overprotectiveness drives Leila away—Vlad's love for his new bride could be the very thing that dooms them both…
4.5 stars for story and audiobook performance.
Bound by Flames is the third book in Jeaniene Frost's Night Prince Series. I am in love with this series! You have to read the first book so this review will be short and spoiler free. Bound by Flames continues from where the last book left off so fans continue with the exciting drama of Vlad battling his enemies while trying to keep Leila safe. This book had the action, mystery, romance and comedy that has made me fall in love with Jeaniene Frost's writing. I loved the surprising twists in the story and the edge of your seat action. The romance is even steamier as we see a softer side of Vlad. My only complaint is that Leila was so stubborn it irritated me. She continues to go against Vlad and gets herself in trouble. But despite this I still love these characters and I can't wait to read more from this author!!
Audiobook Review
Narrator Tavia Gilbert does another incredible performance for Bound by Flames. I can't imagine anyone else doing the narration for Vlad and Leila. I love the emotion and excitement that comes from her performance.

Rating Report
Plot
Characters
Writing
Pacing
Audiobook Performance
Overall:
Reading this book contributed to these challenges:
2015 New Release Challenge
Related Posts