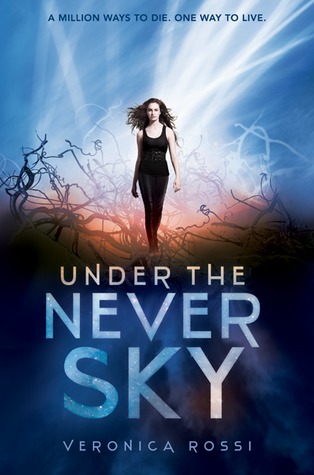 Under The Never Sky
Series:
Under The Never Sky #1
by
Veronica Rossi
Narrator:
Bernadette Dunne Flagler
on January 3, 2012
Genres:
Young Adult Science Fiction
Pages:
374
Length:
9 hours and 39 minutes
Format:
Audiobook
Source:
Borrowed
Buy on Amazon
, 
Barnes & Noble
Goodreads
Aria is a teenager in the enclosed city of Reverie. Like all Dwellers, she spends her time with friends in virtual environments, called Realms, accessed through an eyepiece called a Smarteye. Aria enjoys the Realms and the easy life in Reverie. When she is forced out of the pod for a crime she did not commit, she believes her death is imminent. The outside world is known as The Death Shop, with danger in every direction.

As an Outsider, Perry has always known hunger, vicious predators, and violent energy storms from the swirling electrified atmosphere called the Aether. A bit of an outcast even among his hunting tribe, Perry withstands these daily tests with his exceptional abilities, as he is gifted with powerful senses that enable him to scent danger, food and even human emotions.

They come together reluctantly, for Aria must depend on Perry, whom she considers a barbarian, to help her get back to Reverie, while Perry needs Aria to help unravel the mystery of his beloved nephew's abduction by the Dwellers. Together they embark on a journey challenged as much by their prejudices as by encounters with cannibals and wolves. But to their surprise, Aria and Perry forge an unlikely love - one that will forever change the fate of all who live UNDER THE NEVER SKY

The first book in a captivating trilogy, Veronica Rossi's enthralling debut sweeps you into an unforgettable adventure
I loved this and I can't believe I waited so long to finally read this book!
I'm not a big fan of dystopian since the stories are too similar to each other. So when I do read this genre I look for something different.  And I found exactly that in Under The Never Sky!!
Why did I love this book?
– Under The Never Sky is a dystopian science fiction and I enjoyed the creativity of the story. Aria is a "dweller", living inside controlled environments and seeing the "world" through a virtual reality.  With their advanced technology the dwellers live in a perfect world free of illness. They wear an eye piece that links them to each other and to their virtual world. Perry is an "outsider", living out in the real world and dealing with the natural elements. He is a Scire that has the ability to sense people's emotions by smell. But he also has the ability to see in the dark. When Perry and Aria meet it triggers a string of events that teams them up for the same goal – to save someone they love.
– You jump right into the heart of the story from chapter 1. I loved that the pace of the story was steady and kept me intrigued.
– The pieces of information of this world is scattered within the early chapters making it easy to follow and not overwhelming with details.
– The dual POVs are well done and alternate smoothly. You get a clear understanding of how different the lives of Aria and Perry are. But even though they have differences they also both feel like outsiders of their people.
– There is no instant love between Aria and Perry!! This is understandable since they grew up with prejudices of each other. They gradually go from enemies to acquaintances to friends to lovers.
– I enjoyed seeing the character growth for both of them as they spend time together getting a better understanding of each other's world.
– The romance is swoon worthy!! Since their relationship is a slow build up when they finally admit their feelings for each other is passionate and meaningful!
I loved this so much and I can't wait to read more of this series and this author!
This is my first time listening to narrator Bernadette Dunne Flagler and it took me some time to adjust to her voice. Since this is a YA book I like to hear a voice that is more age appropriate so the narrator was not a right fit for me. She wasn't believable as a teenager for me and I thought her performance was ok. It was the writing of author Veronica Rossi kept me engaged with the story.
Rating Report
Plot
Characters
Writing
Pacing
Audiobook Performance
Overall:
Related Posts