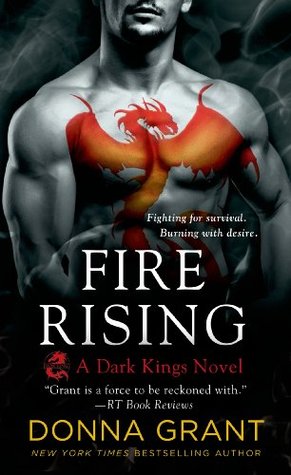 Fire Rising
Series:
Dark Kings #2
by
Donna Grant
Published by
St. Martin's Paperbacks
on June 3, 2014
Genres:
Adult Paranormal Romance
Pages:
384
Format:
Ebook
Source:
Purchased
Buy on Amazon
, 
Barnes & Noble
Goodreads
Tristan, the newest Dragon King, is having a tough time fitting in. Despite his ability to transform into a proud, strong dragon at will, no one knows where he came from or how he became a Dragon King, including himself. When trouble arises in the form of the mob, Tristan is going to have to put aside his questions and band with the other Dragon Kings to protect Dreagan. As if things weren't complicated enough, he is about to find something worth fighting for more important than the Dragon Kings…

Sammie Miller, pub owner in Oban, has been scorned by her business partner—and former lover. Used as a front for money laundering with the mob, Sammie is in great danger once she realizes what has happened. Barely escaping, she plans to rest at Dreagan for only a day before going back on the run. When Tristan swears to protect her, Sammie thinks his efforts will be in vain—the mob is too powerful, and it will take more than the average man's devotion to keep her safe. But the closer she gets to Tristan, and the more he learns his secrets, Sammie can't deny that having a Dragon King who worships you, body and soul, isn't such a bad thing…
My Review
Fire Rising is the second book in the Dark Kings series with Scottish shape shifting dragons who are fierce warriors and passionate lovers. This is the book I have been waiting for and I loved everything about this book!
Fire Rising is Tristan's story, the newest Dragon King, who has been a mystery for the fans of this series. As the newest king we got the treat of seeing him adjust to his new abilities of shifting into a dragon and flying, which made for some funny scenes in Dark Craving (Dark Kings 0.1). But Tristan does not remember anything from his past. He has no idea of who he was and why he became a Dragon King, so the not knowing has haunted him. In a surprising twist we discover that Tristan was Duncan, a powerful warrior from Donna Grant's Dark Warrior series. But Tristan has no memory of it. He has accepted his new family with the other kings but still feels incomplete.  That is until he meets Sammie Miller. Sammie is in danger and comes to Dreagan to visit her half-sister of Jane.  The moment Sammie and Tristan meet there is an intense attraction. But they both are holding back – Tristan because he doesn't remember his past and Sammie afraid to love again. Their romance is steamy and predictable but what I loved was how they healed each other. They both had to learn that who they are today matters most than their past. The story of discovering the Dragon Kings enemy continues but I really enjoyed the addition of the characters from the Dark Warrior series. I still haven't read that series but it was easy to understand who the characters were and I plan to start the series soon.
This was another exciting and romantic story, which is just what I have grown to expect from author Donna Grant. Fire Rising can be read as a standalone but I suggest you read all the books (including the novellas). This is one of my favorite series and I highly suggest this to all paranormal romance fans.
Overall :
Rating Report
Plot
Characters
Writing
Pacing
Overall:
Reading this book contributed to these challenges:
Related Posts