I received this book for free from Netgalley in exchange for an honest review. This does not affect my opinion of the book or the content of my review.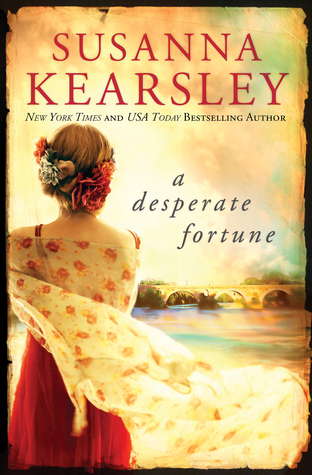 A Desperate Fortune
by
Susanna Kearsley
Published by
Sourcebooks Landmark
on April 7, 2015
Genres:
Adult Historical Romance
Pages:
528
Source:
Netgalley
Buy on Amazon
, 
Barnes & Noble
Goodreads
For nearly 300 years, the mysterious journal of Jacobite exile Mary Dundas has lain unread — its secrets safe from prying eyes. Now, amateur codebreaker Sara Thomas has been hired by a once-famous historian to crack the journal's cipher. But when she arrives in Paris, Sara finds herself besieged by complications from all sides: the journal's reclusive owner, her charming Parisian neighbor, and Mary, whose journal doesn't hold the secrets Sara expects.

It turns out that Mary Dundas wasn't keeping a record of everyday life, but a first-hand account of her part in a dangerous intrigue. In the first wintry months of 1732, with a scandal gaining steam in London, driving many into bankruptcy and ruin, the man accused of being at its center is concealed among the Jacobites in Paris, with Mary posing as his sister to aid his disguise.

When their location is betrayed, they're forced to put a desperate plan in action, heading south along the road to Rome, protected by the enigmatic Highlander Hugh MacPherson.

As Mary's tale grows more and more dire, Sara, too, must carefully choose which turning to take... to find the road that will lead her safely home.
A Desperate Fortune is a romantic historical fiction filled with adventure and mystery. This is another wonderful story from Susanna Kearsley which I really enjoyed.
Author Susanna Kearsley is known for taking her readers on a travel through time filled with history and suspense. In A Desperate Fortune we are taken on another adventure but through the eyes of two extraordinary women, Sara Thomas and Mary Dundas. The women's lives are separated by 300 years but become connected by chance. A Desperate Fortune is different from the author's previous books by there not being characters physically traveling in time. Instead the story alternates from Mary and Sara's point-of-view. Despite the differences in time period we learn that both women have something in common – they have endured heartache and have lost hope for their future.
Sara Thomas loves solving problems and with her cousin Jacqui's influence she is hired by an author to crack the code of Mary Dundas' journal. Mary was a Jacobite exile whose journal has been a mystery to the world. The job is perfect for Sara since it will allow her to work on her own, which she prefers due to her Asperger's Syndrome (a developmental disorder that makes it very hard to interact with other people). A Desperate Fortune is the first book I have read with a character with this diagnosis. The author does a respectable job of not focusing on Sara's disabilities and instead uses the conditions traits (such as attention to detail and focused interests) that make Sara perfect for cracking the code of the journal. We witness Sara struggle to deal with the complications of temporarily moving to France, being surrounded by strangers and her lack of confidence for the job. I found it fascinating how the author was able to depict her thought process and emotions which allowed me to bond with the character. Her difficulty with interacting with people in her past have left her heartbroken. But the handsome Luc helps her to open up and find the self-confidence.
Mary Dundas was raised by her aunt and uncle after the death of her mother. Her father and older brothers leave France to serve the King. Although she is loved by her aunt and cousins, Mary feels abandoned and lost. That is until her oldest brother arrives to have her live with his family. Mary is confused but also excited to be with her brother. But all is not what it seems as her brother asks her to help a stranger that is wanted by the English. Wanting to please her brother she agrees to the plan and begins the adventure that Mary has always dreamed of. Her boring and mundane days are quickly changed to exciting and dangerous, thanks to her new companions: a fugitive, a kind woman serving as a chaperone, and the fierce Highland body-guard, Hugh MacPherson. As Sara decodes her journal it is clear that Mary's adventure was more like a thriller than a chronicle of everyday events. During their travels the group are put in danger but the mysterious Mr. MacPherson is always there to keep Mary safe. But despite living a sheltered life Mary surprised me with her fast thinking and the strength she found within herself to stay safe.
Author Susanna Kearsley is a talented writer and storyteller. The alternating point-of-views flowed well and I enjoyed the time spent with both characters. Sara and Mary go on a journey and learn more about themselves along the way. I enjoyed watching the relationships between Sara and Luc and Mary and Hugh build up slowly. It was believable under the circumstances of both women and was exciting and romantic. The historical facts are interesting and the right amount of details to setup the story, but not be confusing or boring. My only complaint is there was a slow beginning. But once all the characters are introduced the story gets exciting and was difficult to put down. This is the third book I have read from this author and I look forward to reading more from her. I highly recommend A Desperate Fortune for readers who enjoy romantic historical fiction.
"We have been blessed to have you with us, but I think that always here" – she tapped her fingers on her cloak, above her heart – "you've had a little voice that calls to you. And maybe now, my darling, is the time for you to let it lead you home."
Rating Report
Plot
Characters
Writing
Pacing
Overall:
Reading this book contributed to these challenges:
2015 New Release Challenge
Related Posts