I received this book for free from Publisher in exchange for an honest review. This does not affect my opinion of the book or the content of my review.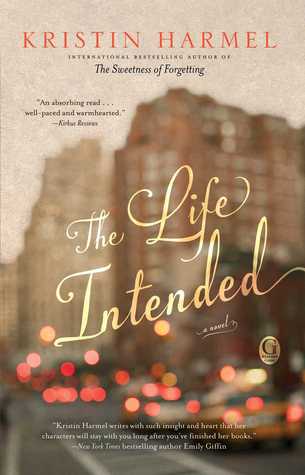 The Life Intended
by
Kristin Harmel
Published by
Gallery Books
on December 30, 2014
Genres:
Womens Fiction
Pages:
368
Format:
Paperback
Source:
Publisher
Buy on Amazon
, 
Barnes & Noble
Goodreads
From the author of the international bestseller The Sweetness of Forgetting, named one of the Best Books of Summer 2012 by Marie Claire magazine, comes a captivating novel about the struggle to overcome the past when our memories refuse to be forgotten.

In this richly told story where Sliding Doors meets P.S. I Love You, Kristin Harmel weaves a heart-wrenching tale that asks: what does it take to move forward in life without forgetting the past?

After her husband's sudden death over ten years ago, Kate Waithman never expected to be lucky enough to find another love of her life. But now she's planning her second walk down the aisle to a perfectly nice man. So why isn't she more excited?

At first, Kate blames her lack of sleep on stress. But when she starts seeing Patrick, her late husband, in her dreams, she begins to wonder if she's really ready to move on. Is Patrick trying to tell her something? Attempting to navigate between dreams and reality, Kate must uncover her husband's hidden message. Her quest leads her to a sign language class and into the New York City foster system, where she finds rewards greater than she could have imagined.
The Life Intended is a story about healing, finding happiness and taking control of your destiny. This is an emotional and uplifting story and I enjoyed everything about this book!
Kate Waithman's life is shattered when her husband Patrick is killed in a car accident. Just as they were building a life together Patrick was taken away from her.  All their hopes and dreams were lost.  Twelve years later Kate has finally taken a chance on love again and becomes engaged. Instead of being overjoyed Kate is haunted with dreams of Patrick and the life they should have had. The dreams are so real and appear to be a message that Kate is having trouble understanding.  But with more dreams she realizes in her real world there has been a part of herself that has been missing since Patrick's death. The Life Intended takes you on Kate's journey of healing and reclaiming her life.
The Life Intended is a departure from the romance novels I normally read and I am so happy I took a chance on this book.  I can't imagine having to deal with the tragic loss of your spouse but I think Kate's character was well developed and believable. During her mourning she lost her will to live, so it is understandable that she allowed herself to just go with the flow of what her family and friends thought was best for her. And that included her relationship with her new fiancé, Dan. But the dreams allowed her to see things that she was afraid to admit to. The dreams were beautiful and heartbreaking of Patrick and the life they could have had. Author Kristin Harmel created an emotional story that was magical.  I wouldn't call this a paranormal story but there is some unexplainable force (or power) that is guiding Kate through this story. But it is Kate that finds the courage in herself to finally make the choices to guide her toward happiness. This is the first book I've read from this author and I was impressed with her writing and creativity. I look forward to reading more from this author. I recommend this to readers that enjoy tearjearker and uplifting stories.
Rating Report
Plot
Characters
Writing
Pacing
Overall:
Related Posts