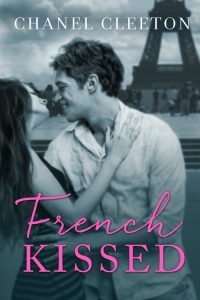 French Kissed
Series:
International School #3
by
Chanel Cleeton
Published by
Self Published
on December 1, 2014
Genres:
New Adult Contemporary Romance 18+
Pages:
256
Source:
Blog Tour
Buy on Amazon
, 
Barnes & Noble
Goodreads
On the surface, Fleur Marceaux has it all. If only the facade matched reality. With one year left at the International School in London, Fleur's struggling to graduate, her love life is a mess, and she can't stop thinking about Max, her ex-boyfriend's best friend. But all that pales compared to the blackmailer determined to destroy her.

There's a social hierarchy at the International School and Max Tucker is outside the velvet ropes. After watching Fleur break his friend's heart, Max knows to stay away from trouble, despite the crush he's had on her since freshman year. But when they're partnered on a project, Max learns there's more to Fleur than meets the eye, and she just might be worth the wild ride.

The more time they spend together, the further Max falls. And when a kiss awakens a passion Fleur never imagined, she's unable to resist Max, who she had thought was all wrong for her but might be the only thing that's right. But will he stand by her when her secrets are revealed?

Don't miss the final book in the International School series. This New Adult romance is recommended for readers 17 and up.
French Kissed is another steamy romance which is just what I wanted from author Chanel Cleeton!
I am a sucker for Happily Ever After endings and no one deserves it more than Fleur Marceaux. In the previous books (I See London and London Falling) we first meet Fleur as the gorgeous and wealthy French model, whose snobbish attitude earns her the title of "Ice Queen".  As we get to know her we discover that she built a wall to protect herself from being hurt.  Being ignored by your parents and having a cheating ex-boyfriend would do that for anyone.  But deep down Fleur is lonely and grieving a tragic loss. To make things worse for a school project she is teamed up with a guy who is responsible for the "Ice Queen" title, American student Max Tucker.  Fleur and Max have had a hate-hate relationship since Freshman year but they have no choice but to work together. But the two have been keeping secrets – they have a physical attraction that they both have been afraid to admit. Deciding to put their differences aside Fleur and Max work on their project, but they can't avoid the sizzling attraction that is building between them.  Fleur and Max are hot together but I was surprised at how fast their relationship moved. The previous year they spent throwing insults at each other so I found it hard to believe either one would forget about that so fast.  Their relationship is steamy (there were a lot of incredibly hot scenes) but I would have liked to see them have more in-depth dialogue and a focus more on an emotional connection.
As the final book in the International series I felt that the story did drag a little bit.  I think it was because of having to deal with Fleur's fears became too repetitive.  She was constantly comparing her feelings for Max to her ex-boyfriend, Costas. In the first two books of the series Maggie and Samir was the main story but we were given side stories for Mya and Fleur.  I missed that interaction with the supporting characters.  I think it would have been better to have a side story on Mya or Maggie in French Kissed, that way there was a break from Fleur's issues. 
All in all, French Kissed is a nice ending for the characters I have grown to love. I hate to see this series end but I can't wait to read Chanel Cleeton's next series.
Rating Report
Plot
Characters
Writing
Pacing
Overall:
  Here is my Bookish Mood Board I created for French Kissed
Sponsored by author Chanel Cleeton
US Only
$10 Amazon Gift Card
1 Ebook of I See London
1 Ebook of London Falling
Related Posts