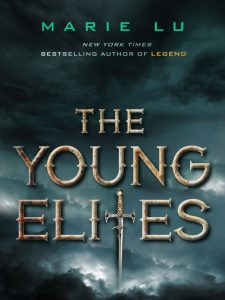 The Young Elites
Series:
A Young Elites #1
by
Marie Lu
Published by
Penguin Group
on October 7, 2014
Genres:
Young Adult Fantasy
Pages:
353
Source:
Publisher
Buy on Amazon
, 
Barnes & Noble
Goodreads
I am tired of being used, hurt, and cast aside.

Adelina Amouteru is a survivor of the blood fever. A decade ago, the deadly illness swept through her nation. Most of the infected perished, while many of the children who survived were left with strange markings. Adelina's black hair turned silver, her lashes went pale, and now she has only a jagged scar where her left eye once was. Her cruel father believes she is a malfetto, an abomination, ruining their family's good name and standing in the way of their fortune. But some of the fever's survivors are rumored to possess more than just scars—they are believed to have mysterious and powerful gifts, and though their identities remain secret, they have come to be called the Young Elites.

Teren Santoro works for the king. As Leader of the Inquisition Axis, it is his job to seek out the Young Elites, to destroy them before they destroy the nation. He believes the Young Elites to be dangerous and vengeful, but it's Teren who may possess the darkest secret of all.

Enzo Valenciano is a member of the Dagger Society. This secret sect of Young Elites seeks out others like them before the Inquisition Axis can. But when the Daggers find Adelina, they discover someone with powers like they've never seen.

Adelina wants to believe Enzo is on her side, and that Teren is the true enemy. But the lives of these three will collide in unexpected ways, as each fights a very different and personal battle. But of one thing they are all certain: Adelina has abilities that shouldn't belong in this world. A vengeful blackness in her heart. And a desire to destroy all who dare to cross her.

It is my turn to use. My turn to hurt.
The Young Elites is an exciting start to a new series!
This is my first time reading a book by Marie Lu and I am so mad at myself for waiting so long. I now know why this author is so popular among Young Adult fans. I was really impressed with her creativity. The Young Elites is a fantasy story takes place in the fictional land of Kenettra. A deadly illness, called the blood fever, swept the land killing the people, mainly adults.  The children that survived the illness are called Malfetto because they were left with strange markings – scars and a change in the color of their hair and eyes.  Some of the Malfettos have also acquired mysterious and powerful gifts. Their identities are secret but they are known as the Young Elites.
Adelina is the main character and one of the survivors, a Malfetto. It is too soon to say that I like this character. Adelina has been physically and emotionally abused by her father. He blames her being a Malfetto as the cause for all their hardships. When Adelina discovers her new powers she fights the urge to be dark. All the years she's been abused has built up pain and anger so it is a constant battle to be good. Plus she must learn to control her power.  Adelina makes some deadly choices so she isn't a character that I have made a real connection with.  I'm not sure if she is a character I would cheer for but I am curious to see how this character will develop.
Overall I really enjoyed this book.  The Young Elites is an exciting story about good vs evil.  There are supporting characters whom I loved (Enzo and Raffaele) and hated (Teren). And the world building was well done.  This is a fantasy so there was the right amount of details without being overwhelmed. The scenes were vivid and exciting. There were times when the story did drag but then the last part of the book is full of non-stop action. I can't wait to read the next book!  Also I plan to read Marie Lu's Legend series.
Rating Report
Plot
Characters
Writing
Pacing
Overall:
Check out my Bookish Mood Board for The Young Elites
Related Posts