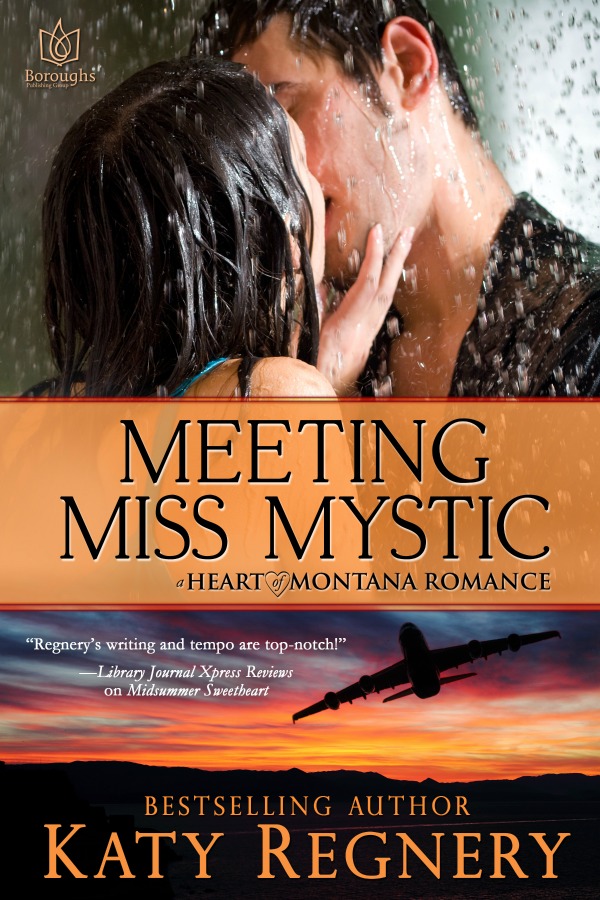 Meeting Miss Mystic
Series:
Heart of Montana #5
by
Katy Regnery
Published by
Boroughs Publishing Group
on June 27, 2014
Genres:
Adult Contemporary Romance
Pages:
330
Source:
Blog Tour
Buy on Amazon
, 
Barnes & Noble
Goodreads
High school principal Paul Johansson has never been lucky in love, which is too bad, because few men in Montana are more naturally romantic. Then his friend Maggie signs him up for Internet dating, and while Paul is initially furious, he's soon blown away by Holly Morgan, a blonde, blue-eyed art teacher from Connecticut. She might just be the girl of his dreams.

Zoe Flannigan—aka Holly Morgan—totally forgot about the account she set up two years ago on Meet-the-One.com. In fact, after an accident that left her physically and emotionally scarred, she hasn't been up for meeting or dating anyone. Until she meets Paul who is handsome, sweet, and too-good-to-be-true. But while the built-in anonymity of the Internet offers a buffer, she can't hide in cyberspace forever, either from Paul's expectations or herself. There's a journey she must take, and at the end of it will be a love as beautiful and boundless as the wide Montana sky.
Meeting Miss Mystic is another great book in this series!
Paul Johansson and Zoe Flannigan (aka Holly Morgan) "meet" on the online dating site Meet-the-One.com.  There have been other online dating stories but Meeting Miss Mystic has a surprising twist.  This is what I love about the author Katy Regnery.  Her stories are creative and unique which makes her stand out in a very competitive genre.
Paul and Zoe have been unlucky in love and in life. So it is always great seeing two people that have had gone through pain to find happiness in each other.  The email and text exchanges between Paul and Zoe were written with humor and flirtation. I felt the excitement and butterflies these characters were feeling. Their correspondences were so well written it was as if the characters were speaking face-to-face instead of miles away. This story had me laughing, crying and sighing from all the romance. 
This is the fourth book of the Heart of Montana series but it can be read as a standalone. Meeting Miss Mystic overlaps with the last book, See Jane Fall, so it was fun to read some behind the scenes that involved Lars and his building romance with Jane. I loved seeing the Gardiner locals that have become my favorite characters. And I can't wait to read more from this series, especially Nils and Maggie's story.
I recommend this book to all romance fans. 
Rating Report
Plot
Characters
Writing
Pacing
Overall:
a Rafflecopter giveaway
Blog Tour Hosted By:
Related Posts