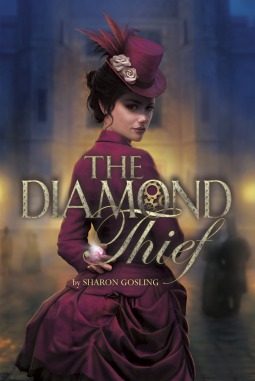 The Diamond Thief
Series:
The Diamond Thief #1
by
Sharon Gosling
Published by
Capstone Switch Press
on October 1, 2014
Genres:
Young Adult Science Fiction
Pages:
338
Source:
Netgalley
Buy on Amazon
, 
Barnes & Noble
Goodreads
No one performs on the circus trapeze like 16-year-old Rémy Brunel. But Rémy also leads another life, prowling through the backstreets of Victorian London as a jewel thief. When she is forced to steal one of the world's most valuable diamonds, she uncovers a world of treachery and fiendish plots.

Meanwhile, young detective Thaddeus Rec is determined to find the jewel and clear his name. Will Thaddeus manage to rescue the jewel? Or is it really Rémy that he needs to save?
The Diamond Thief is an amazing adventure in Victorian London that kept me on the edge of my seat.
Remy Brunel is a 16-year-old circus trapeze artist.  Known as "Little Bird" she performs breathtaking acts at the circus while also being a part-time thief for her circus master. Circus life has been rough for Remy but I loved that she wasn't coldhearted.  She showed love and compassion to her circus family and to J, an orphan boy she encounters on the streets of London. I really liked Remy because she was independent and had street smarts (which saved her a couple times during this adventure).  Remy's life gets more complicated once she meets Thaddeus Rec, a young detective. I liked the build up of their relationship, which at first is as enemies. It is all based on their prejudices of each other. As they work to solve the mystery their relationship changes from a partnership to a sweet romance, which is suitable for this book's target age group.
The steampunk elements were fun and creative. The villain and mystery kept me glued to the book. This is so well written I clearly imagined all the details of each scene, as if watching a movie.
I enjoyed this book and I can't wait to read more in this series.  I highly recommend this to young readers and those looking for a fun adventure!
Rating Report
Plot
Characters
Writing
Pacing
Overall:
Related Posts