This book may be unsuitable for people under 17 years of age due to its use of sexual content, drug and alcohol use, and/or violence.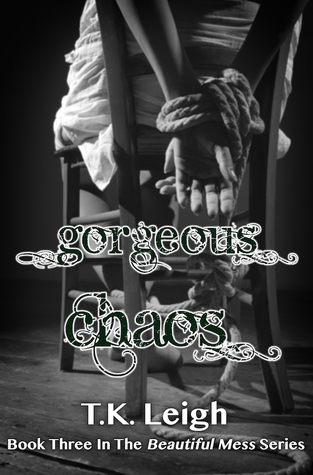 Gorgeous Chaos
Series:
Beautiful Mess #3
by
TK Leigh
Published by
Self Published
on May 5, 2014
Genres:
Adult Contemporary Romance
Pages:
336
Source:
Blog Tour
Buy on Amazon
, 
Barnes & Noble
Goodreads
RECOMMENDED FOR AGES 18 AND UP DUE TO EXPLICIT SEXUAL SITUATIONS, STRONG LANGUAGE, AND GRAPHIC VIOLENCE

THIS IS THE FINAL BOOK IN A THREE-BOOK SERIES THAT NEEDS TO BE READ IN ORDER.

How long can you keep a secret from the one you love? How can you possibly say the words that will rip both your worlds apart?

Finally able to face her fears of abandonment, Olivia Adler begins to prepare for the next phase of her life. But Alexander Burnham is still holding on to all the secrets about Olivia's past, trying to protect her. As days go by, Olivia is slowly starting to remember her past and Alexander realizes it's only a matter of time until she puts all the pieces together and figures out who he is…

And who she is...

But if she remembers, her life could be in even more danger than it already is. And Alexander cannot have that happen. When shadows of Olivia's past threaten not only her life, but also those around her, will Alexander finally put Olivia's needs ahead of his? Will she be able to put all the pieces of her past together in order to save her own life and those she's close to? Can she figure out who she can trust and who is threatening her very existence? Gorgeous Chaos is the explosive conclusion to T.K. Leigh's Beautiful Mess series.
Gorgeous Chaos is the final book in the Beautiful Mess series.  This was an incredible finale!!
The story did start out slow for me. I was so excited for this book, to finally know when and how Olivia would find out the truth of her past.  So I was being impatient. But then the story does pick up half way into the book. There are violent scenes, but the author tastefully chose not to give us the gory details. But it was still disturbing to me. I have grown to love these characters, so it was difficult to read them go through this pain. There was so many twists to the story, it was shocking and kept me glued to the book. It is hard to say goodbye to Olivia and Alex, but I was satisfied with the ending.
This review is short because I don't want to put any spoilers. But if you haven't read this series I am going to repeat what I said in my review of the first book, A Beautiful Mess : don't compare this story to Fifty Shades of Grey! The only similarities you will find is the dominating theme. Alex is a successful businessman who prefers to be in control in his life (at work and in the bedroom), but he is also loving to his family and to Olivia.  Alex feels free to express his feelings, which was lacking in Christian Grey.  Both men are 'damaged' in ways, and their reasons for wanting control are completely different.  So I don't think the 2 series should be compared to each other! In fact, if you were disturbed with the "red room" from Fifty you should know there is nothing like that in this series! Fifty wasn't the first book to have a dominate male character and it won't be the last. It is hard not to compare books but I've learned to not let that cloud my judgement.  If I had I would have missed out on so many great books!
Beautiful Mess is a series worth checking out!
Rating Report
Plot
Characters
Writing
Pacing
Overall:
Buy Links
Amazon ~ Amazon UK ~ Amazon CA ~ Amazon AU
B&N ~ iTunes ~ Google Play ~ Kobo
Purchase Her Other Books Today
Amazon ~ Amazon UK ~ Amazon CA ~ Amazon AU ~ B&N
Amazon ~ Amazon UK ~ Amazon CA ~ Amazon AU ~ B&N
Giveaway
Kindle Paperwhite (US Only), $100 Victoria's Secret Gift Card, (3) A complete set of signed paperbacks of the entire Beautiful Mess series and (5) Choice of signed Paperback of any of T.K. Leighs' books
Related Posts