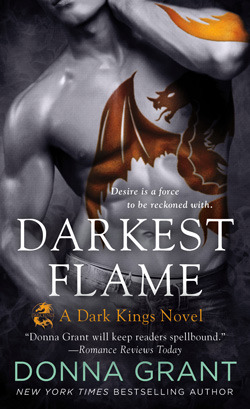 Darkest Flame
Series:
Dark Kings #1
by
Donna Grant
Published by
St. Martin's Paperbacks
on April 29, 2014
Genres:
Adult Paranormal Romance
Pages:
384
Source:
Netgalley
Buy on Amazon
, 
Barnes & Noble
Goodreads
The Dark Kings have fought for centuries to preserve their dragon magic. But one of the most powerful warriors of his kind will be put to the ultimate test. Is he strong enough to resist his greatest temptations? Or will he be forced to surrender - body and soul?

Her beauty is a weapon

Denae Lacroix is a beautiful MI5 agent on a deadly mission. Sent to the Scottish Highlands to spy on the mysterious Dreagan Industries, she discovers too late that she's been set up - as human bait. She is an irresistible lure for a man who has not seen or touched a woman for centuries. He is a man with a destiny - and a desire - that could destroy them both...

His passion is a curse...

It's been twelve hundred years since Kellan has walked among humans - and there's no denying the erotically charged attraction he feels for Denae. But as a Dragon King, he is sworn to protect his secrets. Yet the closer he gets to this smart, ravishing woman, the more her life is in danger. All it takes is one reckless kiss to unleash a flood of desire, the fury of dragons…and the fiercest enemy of all. 
Darkest Flame is another steamy love story from Donna Grant. I can't get enough of these sexy dragon kings!
The dragon kings are men that are half human and half dragon, sworn to protect the human world.  After a devastating war between the humans and dragons, the dragon kings were put under a magic spell to protect them from having any human emotions (especially love).  But as hundreds of years have passed some of the dragon kings feel the loneliness their isolation has caused. Now each men are re-discovering their human emotions and are searching for their soul mate.
Darkest Flame is the first full-length story of the series.  Dragon king Kellan has been asleep for twelve hundred years, his solution to avoid the human species that he has grown to hate. Denae Lacroix is a MI5 agent whose mission is to spy on the dragon king's land. When Denae is betrayed by her people she is thrust into the world of the dragon kings and the arms of Kellan. Right away there is chemistry, but not the obvious sexual attraction. It is more of a love-hate connection. The tension between the two adds drama to the story but there were times I felt the story dragged. Kellan has had a deep hatred for humans which Denae is aware of.  So her insecurities are warranted but it being mentioned repeatedly made me dislike Denae at times.  But once that passes the story is great – there is so much action and suspense, I really got drawn into the story.  I do recommend reading the novellas, Dark Heat, since those characters appear in this book.  Also it would be good so you understand how the series begins.
There was also a cross-over of characters from the Dark Warriors series, which I have not read yet.  But the author does a great job to give enough of a background to familiarize the readers with these characters, and without losing sight of the main plot. After meeting these characters I definitely want to start that series!
Darkest Flame is a great story and I can't wait to read more from this series! I recommend this book to all fans of shifters and paranormal romance.
Rating Report
Plot
Characters
Writing
Pacing
Overall:
Related Posts