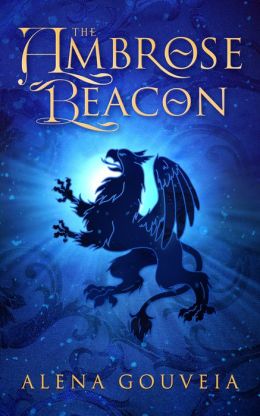 The Ambrose Beacon
Series:
The Solas Prophecy #1
by
Alena Gouveia
Published by
Self Published
on April 28, 2013
Genres:
Young Adult Fantasy
Pages:
404
Format:
Ebook
Source:
Author
Buy on Amazon
, 
Barnes & Noble
Goodreads
Strange things have been happening in Evergreen, Colorado. People are disappearing, wolves are prowling the woods for the first time in seventy years, and strangers in black are showing up at the local schools. For the Ambrose family, it's a sign that their quiet lives are about to be changed forever. The events signal the beginning of a struggle that will either push them closer together as a family, or tear them apart. To survive, each of the children must harness the strange new abilities with which they've been gifted and learn to fight as one. For Jeremiah Ambrose, the struggle to protect his children will force him to put aside his animosity for his brother-in-law Harper, and learn to see him in a different light.

But for Harper, the burden is heaviest. He alone knows the truth about the strange events and what they mean for his family. Something is searching for the Ambrose children. And when it finds them, the fate of the whole world will be decided…
My Review
I was approached by the author to review this book and I am so happy I accepted his request.  I LOVED this book!! 
The Ambrose Beacon is a fantasy novel that focuses on the Ambrose family.  The family consists of the father, Jeremiah Ambrose, his 5 children and their uncle Harper (the brother of their deceased mother). Just as the synopsis states there are strange things happening in their hometown Evergreen, Colorado. The book is written in the point of views of the different characters, which at first I thought was strange. But the more I read the book the more I enjoyed the different point of views.  Since there are so many main characters, the switch from point of views allowed me to connect with all the characters in a shorter amount of time than most books.  And I felt the author did a great job of writing the scenes, so well that the story flowed perfectly and it built up the suspense of the storyline.  There is non-stop action that kept me on the edge of my seat and I had a hard time putting this book down.
The Ambrose Beacon is a book that I think middle grade, young adult and adult readers will enjoy. I loved how the children were loving and protective of each other, despite their age gaps. And there are subplots (for example school bullies and the school dance) that all readers can relate to. I look forward to reading more from this author and I highly recommend this book! Fans of fantasy who love an action filled story should definitely read this book!
Rating Report
Plot
Characters
Writing
Pacing
Overall:
Related Posts