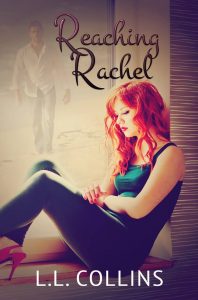 Reaching Rachel
Series:
Living Again #2
by
LL Collins
Published by
Self Published
on January 19, 2014
Genres:
Adult Contemporary Romance
Pages:
310
Source:
Blog Tour
Buy on Amazon
, 
Barnes & Noble
Goodreads
Synopsis
Rachel has always been seen as a wild child, never committing or settling down. She wants it that way, so that no one ever finds out the truth. Deep down, she is crushed over something that happened years ago that resulted in losing the only man she ever loved. Then she meets someone who tries to convince her that she's ready to commit again. But some things are not what they seem. Realizing too late that she's in over her head, and with her life on the line, she comes face to face with her past in a way she never thought possible.
Devin was in love once, and it destroyed him, making him swear off love forever. After a promotion and subsequent move unexpectedly brings him into the middle of her dangerous situation, he must come face to face with his past and to the woman who broke him into pieces. But she needs help. Desperately. And maybe, just maybe, he didn't know the real truth of their past. Can he help her survive the terrible ordeal she's been through, and during it all, can he safeguard his heart from her? Or will the truth of the pain that has kept them apart show him that he can't live without her after all?
Buy Links
Amazon ~ Amazon UK ~ Amazon CA ~ B&N ~ Kobo
My Review
This is the second book in the Living Again series and this so far is my favorite book in the series! I was glued to this book from the first chapter and I hated to put it down!
Rachel Dawson is known to her friends as a "Wild Child", the party girl that does not want to commit. But deep down Rachel is hiding the pain she is feeling from losing her first and one true love, Devin. While trying to forget Devin, Rachel gets into some trouble which leads to their reunion. As a warning there are some violent scenes in this book, but they are necessary for the story. I thought the author did a tasteful job of these scenes, depicting enough of the violence without being gruesome. It gives the readers a better understanding of Rachel and the pain she is feeling. Even though Rachel was victimized she still was a fighter! She goes through a difficult time but is determined to heal and to move forward. And I absolutely LOVED Devin! Devin also suffered pain from their break-up. But when they are reunited he is determined to never lose her again. He is so loving, protective and sexy!! He is my new book boyfriend!!
I LOVED everything about Reaching Rachel! The story flowed perfectly and grabbed me from the beginning. I loved that Rachel and Devin are given a second chance at love but they have to work hard and fight for their happiness. And I loved seeing characters from the first book, Living Again. I reviewed Living Again and gave it 4 stars – I loved the story but I saw some writing flaws. But Reaching Rachel deserves 5 STARS – I was so impressed with the author's writing, this was perfect! And I cannot wait to read more from this author!
Reaching Rachel is a love story that I will always remember! I highly recommend this book!!
Rating Report
Plot
Characters
Writing
Pacing
Overall:
Book Trailer
Excerpt
Rachel lifted her face and pressed a kiss to her favorite arm her spot. "Devin, all of these years, I've been trying so hard to replace you, to make my mind forget by filling it with…men. But, every time, Dev. Every single time, I was disappointed. No one can ever be you because you are the only one for me. And to answer your question, yes. I'm more than okay. That wasn't just sex, Devin. That was you, bringing me back to life. I want to do that over, and over and over again. And next time," she rolled over to face him, a glint in her eye. "I want it like I know you wanted to do it this time. Hard, fast, and in whatever position you want it. We had some fabulous times together. Let's do that again."
"I want nothing more than to do it all," Devin said, his voice low. "But don't mistake what just happened for me just being gentle on you. I wanted to make love to you, to show you what you mean to me. I can tell you all day long, but I wanted you to feel it; feel me. My heart is beating only for you. My body is yours. I love you, Rachel."
She climbed back on top of him, pressing her body against him. "Devin," she said, her face even with his. Pressing kisses to his eyes, nose, then lips, her body started shaking. Why was this so hard for her? She knew it like she knew her own name, but saying it was so difficult for her. "I…" She dipped her head down and kissed his ear, running her tongue along it, then his neck. When goose bumps broke out on his body, she grinned against his neck. Going back to his lips, she put her hands against his face and looked at him in the eyes. "I love your eyes," she whispered. "And your face. God help me, that body is to die for. But Devin?"
"Yes."
"What I really love?" Rachel paused, willing her body to stop quivering. "Is you. I always have." There, that wasn't so bad. "I have since the night I met you, and I've never stopped. All this time, all these years, it's only been you for me, Dev. I know we have shit to work through. But, I love you. I do. I don't think there will ever be a moment where I'm not completely and totally in love with you."
About the Author
LL Collins is a teacher who loves spending her days in the Florida sun with her husband and boys, reading, and writing. Her love of writing has found a home in the self-publishing world. Living Again and Reaching Rachel are available on Amazon Barnes & Noble, Kobo and iBooks, in both eBook and paperback. LL has been writing since she was old enough to write. Always a story in her head, she finally decided to let the characters out and start writing and try to make her lifelong dreams of becoming an author come true. She has been a teacher for over ten years, a wife for 14, and a mom to two boys, 11 and 9.
Facebook ~ Twitter ~ Website ~ Goodreads ~ Amazon Author Page
Purchase Living Again (Living Again Series #1) on sale for $1.99!
Amazon ~ Amazon UK ~ Amazon CA ~ B&N ~ Kobo
Giveaway
Signed paperback of Reaching Rachel (US Only), (2) $5 gift card to Amazon or B&N, Swag pack (US Only)
Related Posts