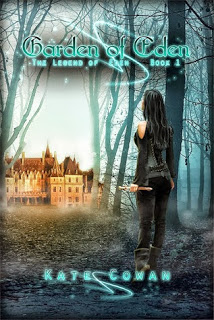 Garden of Eden
Series:
The Legend of Eden #1
by
Kate Cowan
Published by
Self Published
on October 22, 2013
Genres:
Young Adult Paranormal
Format:
Ebook
Source:
Blog Tour
Buy on Amazon
, 
Barnes & Noble
Goodreads
BOOK DESCRIPTION:

It has been four years.
Four years since the day the Catchers found her family.
Four years since she escaped capture.
And four years since the day her mother locked her and Will, a boy she hardly knew, in an attic, 'for their own protection'.
Now, Eden White is fifteen, and sick of being a prisoner of parents who all but abandoned her. It was as simple as one walk down a beautiful, foggy beach, but it ended with Eden and Will face to face with Catchers - and this time, there is no escape.
When Eden wakes, she finds herself on an island, surrounded by hundreds of stolen children. Enrolled in the island school, Jordan Hall, Eden quickly learns that the island is not what it seems.
And, in the woods surrounding the school, she discovers a wild, beautiful magic inside of herself - one she has no idea how to control. With three unlikely new friends, Eden begins to realize that the headmistress is hiding much more than the stolen children - and what they learn in the laboratories below the school could cost Eden her life.
About the Author 
Kate is an artist, an animation student, a black belt in karate and now, an author. She didn't discover writing until mid-high school, when she began writing an (unintentionally) hilarious novel involving a teenage girl and a magic necklace. Her current novel series, The Legend of Eden, began as a story of Arthurian magic, but quickly transformed into something much different.
Kate currently lives in Ontario, Canada, in a zoo of a house. When she isn't writing, she's drawing, cooking, or browsing the Internet for new music.
My Quick Review
4 out of 5 Stars
This book was a complete surprise.  I was just expecting another dystopian story, but this turned out to be more than that.  This story is mixed with fantasy and magic, and it had a psychedelic twist in the story that reminded me of Alice in Wonderland.  This strange combination worked really well and I couldn't put this book down! But I wish the synopsis didn't reveal so much of the story, it spoiled some of the surprises for me.
I really did like the characters of this story.  Eden was a surprise and is my favorite character! Being isolated in the attic did not make her into a anti-social, self-centered person.  Once she is on the island she enjoys her new freedom but is aware that there is something different with the island.  So rather than just try to escape Eden is determined to learn the truth and to save her new friends.
This is a great story with mystery and action. I can't wait for the next book and I highly recommend this book!
My Dream Cast
 Eden is described as having dark black hair and strange, icy eyes and freckles.  I chose actress Hailee Steinfeld (she can wear blue contact lenses).  She was nominated for an Academy Award in 2010 for her role in True Grit and she is starring in this years Ender's Game.
Will
 is described as an average sized boy with tanned, olive skin, shaggy black hair and bottomless black-brown eyes. I chose actor Tyler Posey.  He stars in the tv series 
Teen Wolf.  
Will's character is still a mystery – he's keeping a secret from Eden. I can't wait to see what he's hiding and I hope it is not anything that will break Eden's heart! 
Tom is described as having flaming red hair, framing his pale face and with  deep, rich green eyes. Right away I thought of  Rupert Grint.  His character Ron Weasley from the Harry Potter movies reminded me of Tom.  Tom is funny and charismatic.  He befriended Eden as soon as she came to the island, which makes me suspicious of his motives.
Adriane is described as having blue eyes and the whitest blonde hair, lose ringlets fall widely around her sharp cheekbones, framing her pretty, but harsh features. I chose actress Chloe Grace Moretz. Adriane is a tough girl, she's a fighter. Chloe starred in the movie Kick-Ass 2 and I was so impressed with her fighting scenes, so right away I thought she would be perfect as Adriane.
Dana is described as a dark skinned girl. Her eyes were black-brown, the same as her hair, which fanned out in an afro that was held back by a thick red headband. Dana is one of Eden's roommates. When we first meet Dana she is shy and is embarrassed at the way the other roommate treats Eden. So right away I imagined actress Amandla Stenberg.  Amandla starred as Rue in The Hunger Games movie. For me, Rue and Dana were similar in that they were shy and quiet but very observant. Characters that most people mistakenly think are weak turn out to be the bravest, so I can't wait to read more about Dana!
Aaron is described as having thick, blond hair that was pale like the morning sun. His skin was tanned and freckled.  He wore a rumpled white linen tunic, a golden chain around his throat, and jeans. His square, strong jaw and high cheekbones radiated a calm, sure authority. I think Brad Pitt can be the perfect former FBI agent!
Related Posts