Waiting on Wednesday is a weekly meme hosted by Breaking the Spine where we
post upcoming releases we're highly anticipating.
 My pre-publication selection for this week's Waiting on Wednesday is :
Barefoot by the Sea by Roxanne St. Claire
Release date is October 29, 2013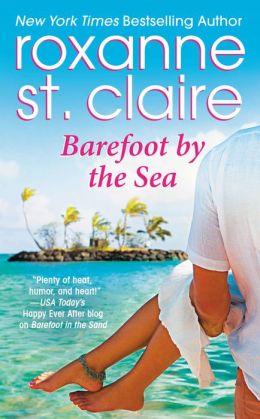 Overview from Barnes & Noble:
"Pack this one in your beach bag and get ready for nonstop fun."
— Susan Mallery, New York Times bestselling author, on Barefoot in the Sand 
A Barefoot Bay Novel
When you think you know your heart's desire . . .
Tessa Galloway is a gifted nurturer-her verdant garden at Barefoot Bay's new resort is living proof. If only the woman who can grow anything could grow what she wants most: a baby. Her friends think the right guy will come along, but Tessa doesn't want to wait. All she needs is the perfect donor to make her dream come true. Then John Brown is hired at the resort. If anyone could make beautiful babies, it's this gorgeous, mysterious man. So why does Tessa suddenly find herself wanting so much more?
Can you give up all your dreams for love?
It's been three long years since John Brown had to leave his old life. Forced into the witness protection program, he's desperate to be reunited with his toddler twins. When he gets that chance, there's a catch-he must prove he's got a steady job and a new wife. Landing a gig as a chef in Barefoot Bay is easy enough. And falling for lovely Tessa is even easier. The hard part? Can he win the heart of a woman who prizes honesty-when the truth may shatter it?
Why I am waiting for this book?


This is the 4th book in the Barefoot Bay series.  This series is an adult contemporary romance that focuses on the friendship between 4 ladies.  All 4 have had to deal with life's hardships but their strong friendship has helped them survive. But of all the 4 ladies, Tessa's story is the one I have been waiting for!  Tessa has been unable to have a baby, which resulted in her divorce.  She is trying to move forward, but her ex-husband is a constant reminder of her pain.  He texts her when his new girlfriend is pregnant (not once, but twice)!!  Can you imagine how that would feel?  Well I can and that is why I  have been waiting for Tessa's story!  She deserves to find the love and family that her friends have, and to get some revenge on her ex!
What book are you waiting for?  Leave me a link so I can see your choice – I'm always looking for more great books to read!!
Related Posts